Samantha Paige
Perfect your paper piecing skills while stitching up a variety of strip pieced and paper pieced blocks - arrows, wedges, pyramids, and cobblestone - in this contemporary row by row quilt.
Other paper piecing options: Americana Flag, Autumn Breeze, Christmas Cactus, Good Morning, Celebration Slices, Tropical Punch


Winter Woods
There's nothing more relaxing that a walk in the woods on a brisk winter day. Capture that feeling in this surprisingly easy wall hanging that showcases the stark beauty of a winter wood, and take your strip piecing experience to the next level. Finish with fused applique for a unique wall hanging or lap quilt.
Flower Fields



Create your own everlasting field of flowers – quickly and easily – with

2 1/2" strips (or your favorite jelly roll), and some quick piecing. Dimensional petals add a fun feel to this happy project! And a bonus table runner project is included!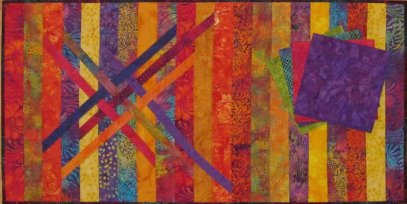 Ins and
Outs
Love 2 1/2" strips? One jelly roll, plus backing fabric and batting, combine in a quilt as you go project that will create one table runner, two place mats and four coordinating mug rugs - all with fun dimensional woven detail!
Other precut options: Flower Fields, Catch A Falling Star, Juxtaposition
Personalized
Workshop
Are you a shop or guild? Want a workshop, but don't see what you're looking for? I can personalize a workshop especially for you. The class can be focused around one of my patterns (from my pattern shop, or from one of my projects featured in a quilt magazine) or a technique featured in one of my projects. What could be better than that?

Dutc
h Windmills


Create the illusion of complex curved piecing with this simple fusing technique. Learn how to place floating circles and halfwedges over apieced background so that you end with a quilt that has spin and movement without the difficulties of sewing curves. Use up to 20 different fabrics and make a lap quilt or a wall hanging that will impress anyone who will see it.


Other faux curve options: Double Dutch, Antique Circles, My Quilt Bubbles Over
Primitive Stitch Sampler
Love the look of primitive quilts? Ready to go beyond the basic blanket stitch? Want to learn to work with wool and embroidery? Create a lovely sampler and learn 8 different stitch options. I've done mine in wool on fabric (batik), but you can work with any combination of wool on fabric, or fabric on fabric to suit your tastes. Psst.....this isn't just for primitive sttchery! Traditional and modern quilts can be beautifully enhanced with stitchery as well!
Christmas Cactus
Inspired by my Mother's Christmas Cactus, which bloomed and brightened many awinter morning with its delicate flowers, this quilt mimics those flat stems and spiky blooms with delicate points, easy piecing and a unique angled border. Paper piecing makes all those points very "quilter friendly". Easy enough for a beginner, beautiful enough to showcase those special fabrics, and just the right size to top a table or grace a wall, this project is a perfect way to say thanks to a friend, or to stitch up to brighten your day.
Butterfly Bowls and Bracelets


Looking for something a little different? Then let's create a charming butterfly bowl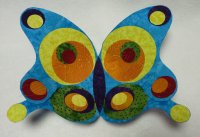 (choose from Pop Art or Take Wing) or combine a bit of fusing with some hand stitching and make a fun cuff bracelet. All projects use Bosal's Heatable Moldable, which allows you to shape your finished project. These can be no-sew projects, but they are also a great opportunity to play around with decorative stitching!