Skip Navigation
Website Accessibility
The Quilt Along is over - but you can still get the pattern (click above). If you missed any of the Quilt Along Newsletters, you can find them here:

Sisterhood QAL Newsletter One
Sisterhood QAL Newsletter Two
Sisterhood QAL Newsletter Three
Sisterhood QAL Newsletter Four
Sisterhood QAL Newsletter Five
Sisterhood QAL Newsletter Six
Sisterhood QAL Newsletter Seven
Sisterhood QAL Newsletter Eight
Sisterhood QAL Newsletter Nine
Sisterhood QAL Newsletter Ten


Sisterhood: The Quilt
The Sisterhood quilt celebrates women who have been an important and influential part of our lives. Mothers, grandmothers, aunts, sisters, daughters and friends who are our support system.
Women who have supported us, nurtured us, laughed and cried with us. Women who we value and love.
We have taken 30 quilt blocks and renamed them with the names of all these wonderful women. In the newsletters during the quilt along, we will share a little story about each of these women that have shaped and influenced us.



Many many thanks to our awesome sponsors!


Skill Level: Intermediate
While the pattern is written for the intermediate quilter, this pattern can be
A wonderful skill builder for the quilter ready to take on the challenge. The
Blocks range in complexity, but use many common units. Helpful tips and
Video demonstrations will be part of the quilt along (another great reason to sign up!)
Setting
The Sisterhood Quilt Pattern offers three different size options, each using the same 30 star blocks. For the traditional quilter, we have designed a charming lap quilt that finishes at 67" x 80". There are two more contemporary layout options, each with some negative space. One finishes at 83" x 93", while the largest is 90" x 94". And of course, any of them can easily be made larger by simply adding borders!
The Sisterhood Quilt Pattern
Regular Price: $42.00
Click here to purchase the print pattern
Click here to purchase the pdf pattern

International Customers:
Please use one of the Etsy links to purchase the pattern. To visit my (Tamarinis) Etsy shop, click here!

Here are the fabric requirements for the quilt: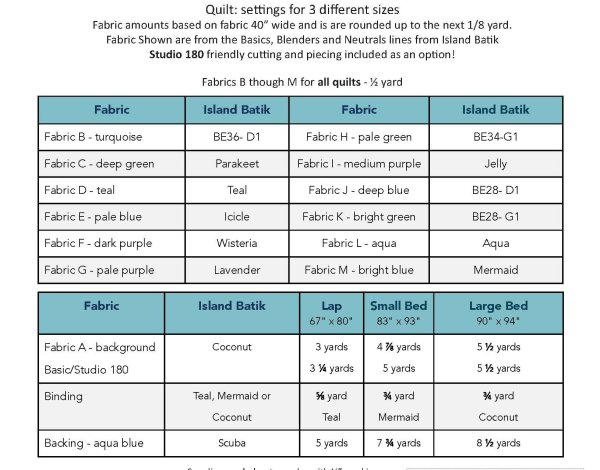 Like what you see here, and want to hear more from Tamarinis?
Like me on Facebook, follow me on Instagram, and sign up for my newsletter at www.tamarinis.com! PS - I'm trying to get to the next milestone number on Facebook and Instagram and would REALLY appreciate your help - so please click and follow! Thanks so much!
Following is one way to demonstrate your interest in my projects, patterns, and partnerships. Your comments are also GREATLY appreciated, and provide valuable feedback regarding what inspires you, as well as what you'd like to see explored in future posts.