Happy (frozen) Valentine's Day
Hello again! Just dropping by to let you know about what's going on with Tamarinis!

---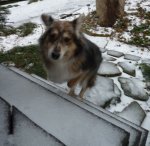 Apparently the polar vortex has decided to call the South home. I don't mean to sound inhospitable, but.....seriously polar vortex - go home.

That white stuff you see - that's sleet. Bob, Tamarinis' Security Officer, is enjoying it. Urgh.....it's been snowing, raining, and now sleeting. In Atlanta! And the weathermen predicted wide spread power outages for today and tomorrow, so I sewed well into the wee hours (3 am, thank you very much) to get my next quilt in by the deadline.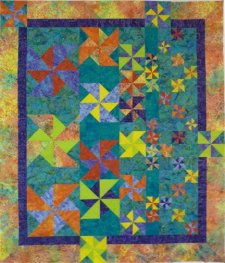 Have you seen it? Or watched it's progress on the blog? If so, then you know I'm running a "Name That Quilt" contest. And the terrific folks at Island Batik have sweetened the deal and are offering a lovely stack of fabrics (from the quilt, no less!) to the winner!

What would you call this quilt?

To enter, go the blog and leave a comment with your suggestion. And check out the prize. Drool alert - have a tissue handy, cover your keyboard. Those fabrics are yummy!



---
Workshops, Classes and Demos:


March 8th: Quilt Shop on Main - Ashley Elayne
Quilt Class: 1pm - 4pm
A quick, easy big block quilt that stitches
up in a hurry - and great for guys or gals!

March 15th: Pickleweeds Quilt Shop
Cherokee Rose Quilt Guild Workshop
The project will be "Fractures", a new
pattern!

March 29th: Stitch'n Quilt
Beginning Quilting - Casserole Quilt
A five week beginner level quilt class,
featuring "Casserole Quilt", desgined
especially for this class!

Ongoing: Pickelweeds Quilt Shop - Tamarinis Trunk Show – stop by and take a look – Joan is featuring many of my patterns – with the matching quilts! – in the shop! A great chance to see them all in one place!

Contact me if you are interested in a workshop or class at your shop or guild!

---
My Coloring Box


I recently posted a pic of a lovely stack of fabrics, documenting the progression of a new quilt pattern. But a comment on Facebook got me thinking - about how we each see a color palate in a different light, recalling locations, events, emotions that are important to us individually.

In the stack I saw "modern Amish" - bright, clear, crisp, clean. But my new online friend immediately saw tropical birds - bright, colorful parrots, lush tropical foliage. And that's lovely!

Which got me thinking about how I sometimes struggle with finding a color scheme, a palate, for a project. Do you ever have problems with that, or is it just me? No - well, good! I feel a little better now - I've got company in that "what do I use for this quilt?" boat.


But how do we get out of that boat? Here's a thought - how about pulling out favorite pictures - you know, those you took when you were on a special trip, or celebrating, or just saw something you really liked?

I love fall - ok, I love spring, summer and even winter (when it doesn't go on forever!). But fall colors are especially rich. So maybe this pic, taken at my back door last fall, could inspire a quilt with warm oranges, rich browns and tans, crisp greens, and shot of vibrant purple.


And I do dearly love the ocean. So this shot (ah, can't you just smell the salt air), taken on recent trip to visit my daughter, could inspire a palate of cool turquoises and blues, highlighted by whites and charcoal (and would also remind me of that wonderful trip).

So next time you're starting that new quilt project, pull out a few snapshots - ok, who am I kidding. Pull out the cell phone and browse through your photo files and let your images inspire a quilt that reflects you!

---
Have you made this?

If you've made your own version of Paradise Cubed, I'd love to see it! And so would others. Please post a picture on my Facebook page so everyone can see the loveliness!

Thanks for sharing the quilting passion with me. Happy stitching!