Hello again! Just dropping by to let you know about what's going on with Tamarinis!

---
Just wanted to let you know that the New Look sale is winding down, but there is still some inventory in most of the patterns - so grab your deals while you can!

In case you missed it:

Exciting news - for me, that is! Tamarinis is getting a new look. That's right - the ol' side eye gal is going away. I must say I am going to miss the gal. I personally loved her sassy attitude, but apparently some folks were a bit put off by her less than warm Southern hospitality. So....with the help of a fabo friend (thanks Ms. Katie!), I'm fixing that situation.
In honor of her retirement (sob....), I'm running an Old Look, New Look sale on patterns now (March 1, 2016) through Ides day (March 15, 2016). Woohoo - who doesn't love a sale?!
Here's how it's going to work - old stock (i.e. patterns with old covers) will be $7.00 retail (usually $9.00 retail) and if that's not good enough, retail orders over $50 will get free shipping. Yes, I did say "FREE"!
And wholesale customers? I didn't forget about you! Contact me for special pricing.
Conditions. C'mon - you knew there would be some conditions, right? Sale is limited to stock on hand. I won't be doing any reprinting of the old covers. So....you will need to email me with your order. I will verify stock on hand and invoice you.
Sound good? Great! So pour a warm cup of coffee (or a glass of wine - sipper's preference), warm up that credit card, and let's shop! Head over to the website online store and check out the patterns!

Some must looks: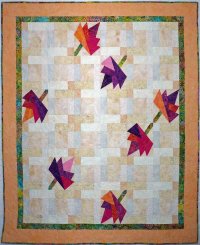 Autumn Breeze
A mix of paper piecing and strip piecing for a clean, fresh leafy quilt!



Christmas Cactus (old and new looks)
An easy paper pieced pattern with an angled border.



Celebration Slices
One paper pieced pattern - three different looks!



Harvest
Get ready for fall with simple piecing, raw edge appliqué and some big stitch quilting! Check out the pattern to see the traditional and contemporary looks!



Boho Bliss - A Block of the Month
10 different 16" blocks, plus the finishing pattern.


Reveal day for the new look? Well, March 16th, of course!