No April Fool Here!

---
So no April Fool's Joke - instead, I thought I'd share a sneak peek with you of the latest Northcott ad in American Quilt Retailer. That's right - they are featuring one of my new patterns, Boundaries, done up in their fabulous Gradations line! Woot woot! Yes, you can preorder the pattern now.

Have you been checking out the Tips Tuesday and Tutorials Thursday series of posts on Facebook? I share favorite tips and tutorials I've found online. If you have any you'd like for me to feature, send them my way - or rather, send me the link.

Stay tuned for a (right now) super secret project that is going to be loads of fun. It is scheduled to start in July, and of course there will be more teasers and info as we get closer to launch.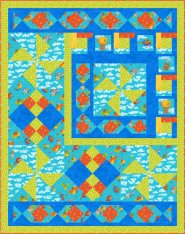 Did you know? I have limited edition kits? Yep, that's right, I do. And as a special April Fool's treat for you, selected kits are 25% off (I've already reduce the price for you). But just like the fabulously fun 1st of April, this special isn't going to last. The special prices are good through Thursday, April 6th. Just like they say on TV, quantities are limited. Ok - but really, quantities ARE limited.

And just one more little sneak peek - my newest pattern, fresh off the presses. It features not one, not two, but three different quilts, all in one pattern.



I am collecting pictures of your completed quilts from my patterns to post on a gallery page on the website. So if you've stitched up one of my patterns, please send me a picture so we can share your wonderful work with everyone!
Thanks for sharing the quilting passion with me. Happy stitching!