What Happened
in St. Louis
My Quilt Market Review

---
Quilt Market is a lot like Christmas (for me, at least). I spend months preparing and looking forward to it, the excitement builds, I am reunited with friends I haven't seen in months, new and exciting projects, fabric, patterns, and tools are revealed. And then it's over. But the good news is I can share some of the wonderful projects and products from some of my very talented friends.

So here we go! Here is MY roundup of favorites from Quilt Market featuring some of my quilting
pals:
Canton Village Quilt Works:

The

über
talented Jackie Kunkel had awesome projects in her Fresh Pick'ins line from Island Batik. Check these beauties out!
Cranberry
Pie Designs:
Her new pattern, Pantry Pals, are just too cute (hint - this is just two of the four designs in the pattern!).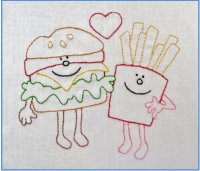 And check out the snowman - a perfect mix of applique and embroidery!

Fat Quarter Gypsy:
Check out the new Wingman - what everyone needs on the arm of your favorite sewing chair, right? And then there's the adorable new dressed up pop ups!



Poorhouse Quilt Designs:
The gifted Kris Poor used 10" precuts in my Batiks Go Retro line to fashion her new Honeycomb Bag - and it is too stinkin' cute! It stitches up super quick, and uses Bosal's precut hexi shapes as the base. How clever is that?!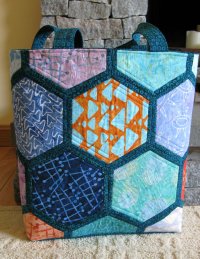 Purple Moose Designs:
Terri came up with a design that just screams summer - Sandy Toes! She's also a Pop Up partner, and the project will make a large pop up. How awesome is that? Two projects in one!




Swirly Girls Design:
Susan came out with not only a terrific fabric line and awesome patterns, but also a new fusible product, Barely There, that is an absolute must!


Seams

Like

A Dream Quilt Designs:
Check out Kate's new pattern, Moonflower Mini, using (yep, you guessed it) my new Batiks Go Retro fabric line from Island Batik. Isn't it just too adorable (ok, maybe I've overused that word this market - but it's not my fault everything was just adorbs!)? And I love her other new patterns as well- Savannah Squares and Tannenbaum Trio:

Tamarinis
And of course there was my new line, Batiks Go Retro (duh! you didn't think I'd leave THAT out, did you?). 1 new fabric line plus four new patterns = a terrific show! (and of course, getting to collaborate with a score of designers on terrific projects of their own using my fabrics was an over the moon experience!).

Fabrics and patterns ship in October. You can order the fabric directly from Island Batik, along with the patterns. 2 1/2" strips and 10" squares precuts are available as well.

And if it is just the patterns you want, well you know where to find them. Yup, right on my website (available late summer).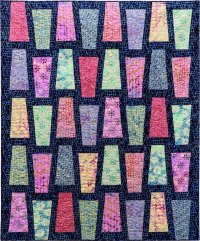 Wedge-o-Matic Jangle
46" x 48" 48" x 60"
Atomic Bombshell Dutch Windmills
45" x 68" 62" x 75"(and other sizes)
__________________________________________________________________________________

Upcoming Events
Some fun blog hops starting this summer - so mark your calendar!

Fiesta de Azucar 2017: Begins July 1. This is NOT your typical blog hop. So if you are a fan of sugar skulls, if you like something a little different, if you like fused applique with some fun stitching, or if you are just a stitching fanatic, check it out! More info is on the Facebook page (link above).

Hello Blog Hop: Begins July 16th. This blog hop features different designers' projects using Swirly Girls Design's new Hello fabric from Michael Miller. More info to come!

Batiks Go Retro Blog Hop: Begins September 11th. This blog hop features different designers' projects using my Batiks Go Retro fabric line from Island Batik. And guess what - more info to come!

Thanks for sharing the quilting passion with me. Happy stitching!

If you are interested in having me teach at your shop or guild, please contact me!
If you wish to unsubscribe from my newsletter list, please email me or click the "Manage Subscription" link

.