Saying Hello and Goodbye


You've heard of spring cleaning? Well, I've been doing a bit of "summer cleaning" and sprucing up the website. Grab a cup of coffee and read on!




I will be removing most, if not all, of my "non-quilting" projects - those patterns near and dear to ME but not in line with the Tamarinis esthetic. My Bosal based projects, such as the Boho Bracelets and Butterfly bowls - say bye! My garden bowls - Blossom and Pumpkin - say bye!




This will provide you a cleaner, crisper shopping experience. But I wanted to give you an opportunity to snap up any patterns that are going away. So.....I've added back some oldies but goodies for a BRIEF time to the pattern shop, and at reduced prices. They will be here in the shop until Friday, July 19th. Hint: Read all the way to the bottom for a special offer!





I love working with wool! I love the texture and the way it pairs beautifully with other fabrics. But....wool is not what most folks think of when they think of Tamarinis. So....I'll be pulling many of my fun little wool projects, such as TV Time (shown above), my Boho and Mustache bracelet patterns, and my Butterfly bowls.

As part of the Summer Clean Out Sale, all of those fun little projects will be $1 off (or more), while supplies last. Look for them in the Pattern Shop!

Say Hello to some new projects while you're here!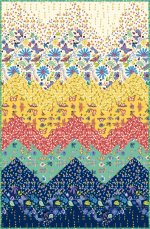 Road Trip: Go on an Adventure- a quilt adventure- with a great Block Of The Month Quilt called A Road Trip (pictured at the top) designed by myself, Tammy Silvers, and my friend Kate Colleran.
Each month there is a different block design where you will make multiple blocks, sometimes in different sizes. The blocks use a variety of techniques so it is a great skill builder quilt. The pattern is made up of 11 block designs; months 1 thru 10 are the main blocks in the quilt, month 11 has instructions for the filler blocks and month 12 is for the setting and borders.

Spark: first in my Studio 180 friendly patterns! Spark uses the Split Rects tool to make piecing super simple. Lap quilt and table runner are including in this pattern.

Peaks and Valleys: A super fun, yes you can get it done in a weekend crib quilt project.

Through Friday, July 19th, take 10% off all eligible products with the code BYEBYE19!

Until next time, happy stitching!
Like what you see here, and want to hear more from Tamarinis? Like me on Facebook, follow me on Instagram, and sign up for my newsletter at www.tamarinis.com! Following is one way to demonstrate your interest in my projects, patterns, and partnerships. Your comments are also GREATLY appreciated, and provide valuable feedback regarding what inspires you, as well as what you'd like to see explored in future posts. And did you know? I travel and teach! Contact me to schedule a trunk show and/or workshop!