Retreat From Home
Special note to shop owners at the bottom of the newsletter!


Looking for something quilty to do? Have you heard about the Retreat from Home Quilt in Your Jammies event?

Ebony Love of Love Bug Designs has created the ultimate in comfy retreats - a virtual retreat where you can quilty in your jammies, and no shoes are required!

Find more info here on my Retreat from Home page, and be sure to sign up for the newsletter so you will get notified when registration opens!




Next week, the fun folks at Gammill are hosting an online quilt show! And yours truly will be offering classes during the evening - and you guessed it. They will be virtual! There are a slew of talented quilters offering amazing classes, so be sure to check it out!


Speaking of classes, I have one more online class to offer you!





On Tuesday, April 21st, from 6:30pm to 8:30pm, I'll be teaching Catch a Falling Star. Catch A Falling Star is another easy project that uses half square triangles to create the effect of stars gently falling to earth.

I'll even demo how to use the Tucker Trimmer to get amazingly accurate half square triangles.

While the pattern isn't written for scraps, you could definitely use this as a scrap buster project! Sign up for the class here.




The Adventure in Color Luminous Quilt Along is almost over. If you have been stitching along with us - thank you! I'd love to see pictures of your progress! Please share them with me on Facebook and tag me so I can see them and share! If you missed any of the fun posts, you can find them here on my blog!




Yes, I have a few kits still available in my Island Batik Kismet line - for two of my most popular guided improv patterns: Sound Waves and To the Point! Grab 'em while I still have fabric!




I still have some strip sets in stock as well! Yes, they are used in Sound Waves and in To the Point, but really they would be fabulous in any project! I just love how vibrant this group is!




Oh, and there are a few sets left of my Kismet 28 wt Aurifil thread collection. Yes, it coordinates beautifully with the fabric collection.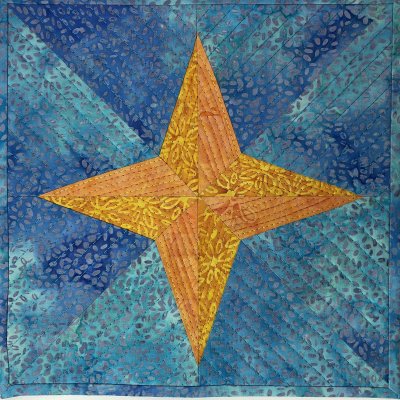 Check out how awesome they look on this sample I created for my upcoming online classes (yes, it is the small compass block from my guided improv Compass Points pattern). I used four different threads from the 28 wt collection. I love how it adds texture and dimension to the batiks when used for quilting!

I hope you have been staying safe and healthy, and have found some fun quilty projects to keep you busy!

Until next time, happy stitching!
Attention Shop Owners:

I am starting a new Facebook group, specifically for shop owners. I'll be releasing patterns on the Facebook page one week ahead of any public release, so you'll get to see them before anyone else does.

There will be Facebook Live presentations, showcasing new fabric lines, tips and technique suggestions, and other resources (as I discover and develop them) specially designed for you. Please email me at info@tamarinis.com to receive an invitation to join this private group. I look forward to seeing you there!

Like what you see here, and want to hear more from Tamarinis? Like me on Facebook, follow me on Instagram, and sign up for my newsletter at www.tamarinis.com! Following is one way to demonstrate your interest in my projects, patterns, and partnerships. Your comments are also GREATLY appreciated, and provide valuable feedback regarding what inspires you, as well as what you'd like to see explored in future posts. And did you know? I travel and teach! Contact me to schedule a trunk show and/or workshop!