Mark Your Calendars for These June Quilt Events
Mark your calendars!

Today, not one but two new ebooks are available for preorder on Amazon! One is Coneflower from me (yours truly) and one is from the talented Janellea Macbeth!

And...before you rush to place your order, just wait. On May 28th and May 29th, you can download your personal use copy for free. Yes, you did read that correctly- free!

Please share the info with your friends!

Preorder link for Janellea's book is here. You can find the preorder link for Coneflower here.




We are continuing the popular Designer Tips and Techniques Virtual Show. New Facebook Live videos will be offered the first Tuesday, Wednesday and Thursday of each month from 24 different designers. Mark your calendars for June's event.

Here is the schedule of presenters:


Tuesday, June 2
12:00 Marija Vujcic https://www.facebook.com/MaraQuiltDesigns/
1:00 Becca Fenstermaker https://facebook.com/prettypiney
2:00 Debbie Wendt https://www.facebook.com/Wendt-Quilting-280123925340667/
3:00 Jo Westfoot http://www.facebook.com/thecraftynomad
4:00 Lisa Ruble https://www.facebook.com/LoveToColorMyWorld/
5:00 Marlene Oddie http://www.facebook.com/kissedquilts
6:00 Reed Johnson https://www.facebook.com/BlueBearQuilts/
7:00 Cherry Guidry https://www.facebook.com/CherryBlossomsQuiltingStudio/
8:00 Ebony Love https://facebook.com/lovebugstudios
Wednesday, June 3
12:00 Tina Dillard https://www.facebook.com/quiltingaffectiondesigns
1:00 Annie Unrein https://www.facebook.com/patternsbyannie/
3:00 Patti Carey https://www.facebook.com/Pattis-Patchwork-464368707643825/
4:00 Sarah Maxwell https://www.facebook.com/DesignsSarahJMaxwell
5:00 Andi Stanfield http://www.facebook.com/Anditruebluequilts
6:00 Laura Piland https://www.facebook.com/sliceofpiquilts
7:00 Tammy Silvers https://www.facebook.com/tamarinis
8:00 Terri Vanden Bosch https://www.facebook.com/lizardcreekquilting/
Thursday, June 4
12:00 Toni Smith https://www.facebook.com/Quiltoni/
1:00 Kate Colleran https://www.facebook.com/SeamsLikeaDreamQuilts/
2:00 Marcea Owen https://www.facebook.com/cottonstreetcommons/
3:00 Epida Studio https://www.facebook.com/epidastudio/
4:00 Geeky Bobbin http://facebook.com/geekybobbin
5:00 Linda Sullivan https://www.facebook.com/colourwerx
6:00 Kimie Tanner and Missy Winona https://www.facebook.com/onwilliamsstreet
7:00 Simone Fisher https://www.facebook.com/SimoneQuilts
8:00 Swan Sheridan http://www.facebook.com/swanamitystudios


June 5 - June 7 please join Ebony Love, Joanne Hillestad, Jackie Kunkel, Kate Colleran and myself for a three day virtual retreat!

Find more info here on my Retreat from Home page, and be sure to sign up for the newsletter!





Yes, I have a few kits still available in my Island Batik Kismet line - for three of my most popular guided improv patterns: Ins and Outs, Sound Waves and To the Point! Grab 'em while I still have fabric!




I still have some strip sets in stock as well! Yes, they are used in Sound Waves and in To the Point, but really they would be fabulous in any project! I just love how vibrant this group is!




Oh, and there are a few sets left of my Kismet 28 wt Aurifil thread collection. Yes, it coordinates beautifully with the fabric collection.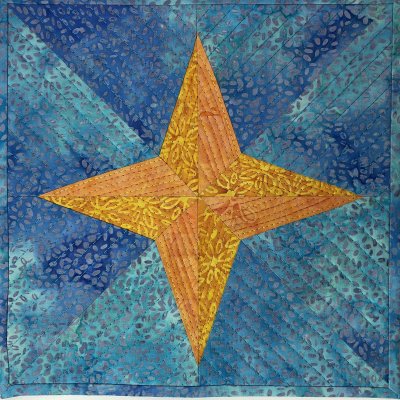 Check out how awesome they look on this sample I created for my upcoming online classes (yes, it is the small compass block from my guided improv Compass Points pattern). I used four different threads from the 28 wt collection. I love how it adds texture and dimension to the batiks when used for quilting!

I hope you have been staying safe and healthy, and have found some fun quilty projects to keep you busy!

Until next time, happy stitching!
Attention Shop Owners:

I am starting a new Facebook group, specifically for shop owners. I'll be releasing patterns on the Facebook page one week ahead of any public release, so you'll get to see them before anyone else does.

There will be Facebook Live presentations, showcasing new fabric lines, tips and technique suggestions, and other resources (as I discover and develop them) specially designed for you. Please email me at info@tamarinis.com to receive an invitation to join this private group. I look forward to seeing you there!

Like what you see here, and want to hear more from Tamarinis? Like me on Facebook, follow me on Instagram, and sign up for my newsletter at www.tamarinis.com! Following is one way to demonstrate your interest in my projects, patterns, and partnerships. Your comments are also GREATLY appreciated, and provide valuable feedback regarding what inspires you, as well as what you'd like to see explored in future posts. And did you know? I travel and teach! Contact me to schedule a trunk show and/or workshop!